Summer season is already going to an end causing an overall wave of sadness all around. Till everybody will get used to the fact that beach bunk has to be replaced with office chair already heartbreaking sighs will be heard for a few weeks straight – about temperature dropping, evenings getting darker and sunglasses being hidden deep in a drawer. But not in fashion world. Fall season here is the season to shine. Racketing fashion weeks follow one another in New York, London and Paris. Biggest fashion houses in the industry present what are we all going to wear next year with the best known fashion names seen in front rows. It's an open opportunity for us to sneak peak into the future, even a little, to cheat without getting punished – tame those sometimes very unexpected future season trends.
Team kARTu eyes are, of course, pointed at the bags. And the winter season of 2018/2019 promises a lot of different colours, unique forms, details and applications in this field. It's easy to get lost and even overdo it so we did all the work for you – excluded 10 principal handbag trends that can be cleverly coordinated with individual style choices without missing the tone.
1. ROUND HANDBAGS
Yes, they aren't gone anywhere! For modern yet elegant autumn style it is recommended to choose patterns, ornaments and even fringes decorated drum silhouette handbags. Glossy buckles, buttons and applications are as important here. Super accurate choice – kARTu handbag "Muscat" that has more than one model variation. Flawless classics or an eye catching accessory of a rebelious soul? Now is the perfect time to experiment.
2. SHINY EVERYTHING
Too much isn't healthy? Not this season though, because sparkly style accents of roaring twenties are coming back at the very right time. Let's boldly welcome vivid, glamourous Christmas season. Fearlessly choose bags decorated with sparkly applications or sequins as these will easily solve festive style dilemma – just a little black dress needed! If seeking for a trendy street style kind of contrast, these bags could look great together with oversized jumpers and straight cut jeans too.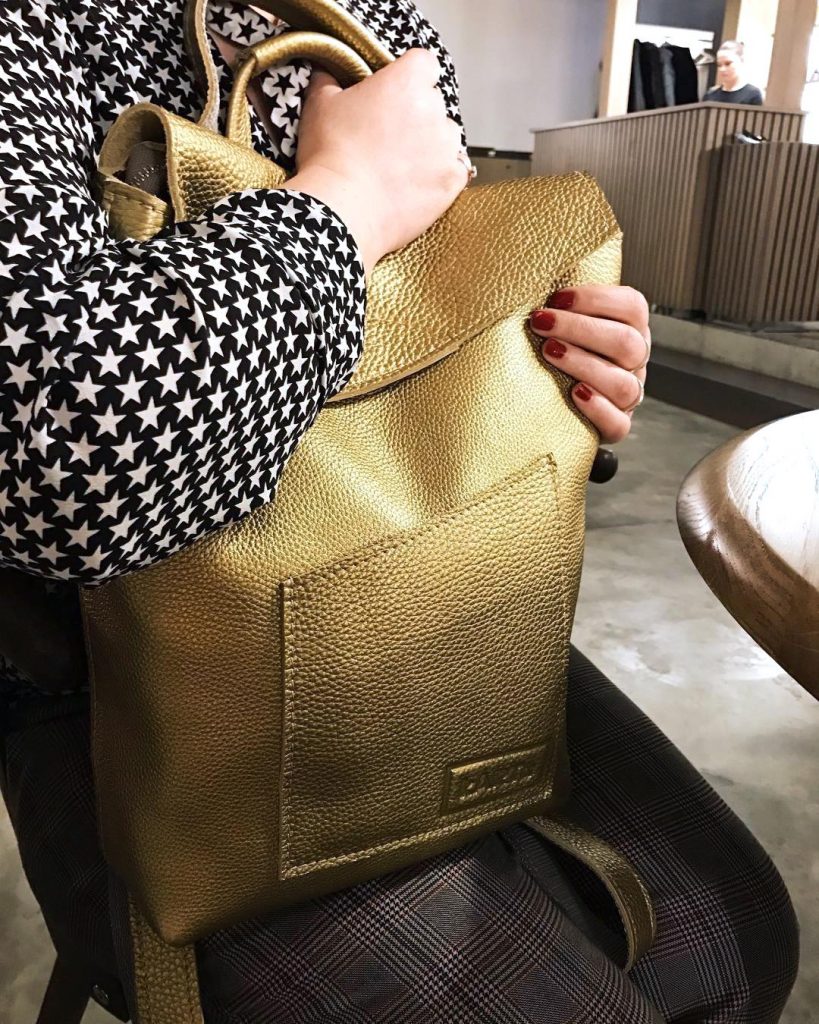 3. BELLY OR BELT BAGS
Great example where functionality and fashion goes in step. Here we probably won't surprise you in any way – belly bags have already won their place in the most wanted list this summer. kARTu suggests few styles of this type mini bag – playful and easily adaptable envelope like "Marigold" and slightly bigger, strict-shaped "Notrele". Oval, square, tiny or big ones, reminding puffy wallets of street sellers – choice is yours, however we dare to say it's worth to have more than one. Why? They're super practical, complementing even a classic look and far from getting out of fashion olympos. Fall must-have!
4. REPTILE SKIN
Missed this? We most definitely did! As did the whole fashion industry, by the way. Elegant, lush and far from boring. Excellent news for those who are having hard dilemmas and aren't up for the brave fashion experiments. Classic black handbag just needs to be changed to the glossy reptile skin black and that's a perfect match for this season! This trendy experiment seems like a great fit for kARTu backpack "Cardamom" and recently mentioned belly bag "Marigold". And for those who are ready to get into the fashion gamble whole head it's almost mandatory to loose moderation here – selection of textures and details is wider than ever.
5. TWISTING BELTS
This fashion puzzle isn't hard at all. Many handbags we wear are made to be worn more than one way – due to functionality detachable and adjustable belts are very popular. This season belts are a very important style detail that gives a new life and playfulness to even the most temperate office bags. Don't you dare to unbuckle and leave them at home – wear few at a time or let them just hang carelessly. No more strict rules!
6. PYRAMID SILHOUETTE
Unique and slightly mystical pyramid silhouette is reborn in a bag this time. Choices are countless – from the very tiny ones, even being worn on a wrist to the unique backpacks. Glossy metal details and pastel colours are a great fit here too. With the unusually designed kARTu backpack "Whortleberry" you will most definitely catch everyone's eye. Unexpected, but easily tamed, spacious traditional handbag variation is great both for traveling far and around everyday.
8. BOXY
This season designers of worldwide fashion houses most definitely couldn't complain about the lack of fantasy. All the prescriptive rules that dictate how a handbag should look like are being thrown away. Shaped like firm boxes, tiny suitcases-handbags are one of the easiest to combine tendencies of this season. kARTu handbag "Melissa" is a great reflection of this modern silhouette. One model from the upcoming kARTu collection also reveals big sympathy exactly for this unique shape. Radiating confidence and sophistication these kind of handbags are a great fit to finish off the full ensemble – like a cherry on top.

8. BACKPACKS
Few years ago backpacks came back with a bang and stayed being one of the most fashionable accessories since then. This season is all about massive, playful, school or camping like backpacks. We encourage to experiment and pull off a brave, urban style look – unexpectedly complement a very classic ensemble with a big traveler's backpack. Remembering our childhood, careless days at school and sleepless nights in the forest by the open fire. And since now it's a fashion statement too!
9. ALL IN ONE
Why wear one when you can wear two or even three at once? No arguments here, that's why we thought about the unique leather accessory "Mini Muscat Trio" having as many ways to wear it as your fantasy will lead you to! Bravely choose handbags having several little parts or combine different ones yourself – this fall it's a great way to give some houte couture to even a very urban street style outfit.
10. MINI
These small accessories are meant to be more of an outfit detail than functional handbag but that doesn't mean they aren't worth investing in. Little kARTu "Myrtle" will look good with casual jeans yet glamorous evening dress on a weekend. These are like tiny, mini versions of popular handbag shapes that will catch an eye of every passer by. For those evenings when all you need is a phone and a lisptick – handbag that reminds us of a dollhouse from our childhood days. Because fashion doesn't need to be taken too seriously, it needs to be played.